Marketing is a form of persuasive communication. It's about connecting with prospective audiences to promote the right product in the right place and time.
The marketing activity can broadly get categorized as either Traditional Marketing or Digital Marketing.
Digital Marketing – Definition
Digital marketing includes all efforts that use the Internet or electronic devices to promote a product and service. There are several digital channels that businesses leverage to connect with their current and prospective customers. Popular digital platforms include search engines, social media, email, and websites.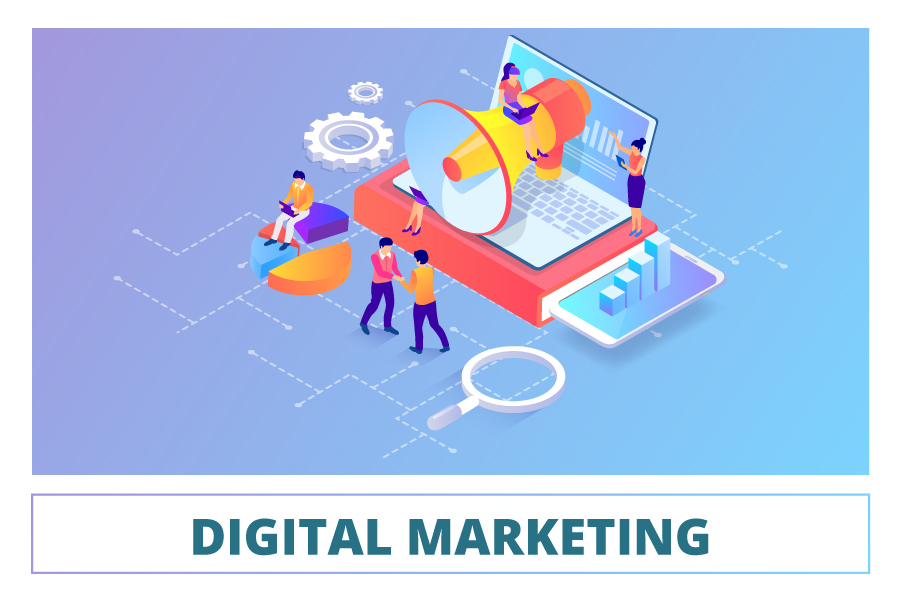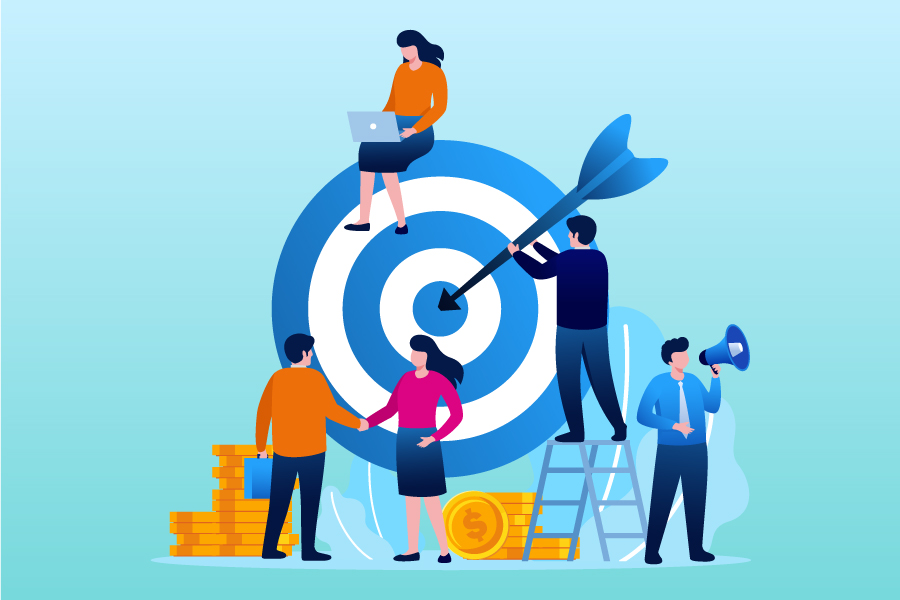 Outbound or Push Marketing 
Digital outbound marketing aims to put a marketing message directly in front of an audience in the digital world — regardless of whether it's welcomed or relevant. For example, the banner ads you see at the top of the websites you visit are simply trying to push a product in front of people who aren't necessarily inclined to receive it.
Inbound or Pull Marketing
Digital Marketers intending to employ digital inbound tactics make use of the online content to entice, engage, and delight their target audiences onto their websites or social handles by providing products or services that are beneficial to them. Blogging gets deemed as one of the most powerful inbound marketing strategies. It allows your business website to capitalize on the terms which your target audience is looking for.
Digital Marketing – Importance
Marketing techniques used traditionally are not enough alone nowadays to boost your business and reach your revenue targets. Digital marketing helps you to reach out to a more extensive set of audiences. It also helps to get shoppers who are more inclined to buy the particular product or service you are offering. 
Four significant benefits of digital marketing are discussed in detail below:
1.Targeted Marketing Technique
Digital marketing campaigns are much more targeted than conventional marketing campaigns that utilize TV commercials, billboard advertisements, and magazine ads since they are presented in front of a crowd that may not be interested in the service offered. With digital marketing, you can specifically target the audience that is most likely interested in knowing more about the products and services you are offering. You can define your prospective customer according to their age, gender, areas of interests, networks, location, or behaviors. All such attributes can easily be selected using social media platforms. We may also employ pay Per Click (PPC) and Search Engine Optimization (SEO) techniques to attract the audience and convert them into customers. 
2.Cost-Effective Marketing
Analyzing the effectiveness and success of a traditionally designed marketing campaign is not an easy job. You can't gauge how many people looked at the billboard roadside and got enticed to visit your store. 
But in digital marketing, you have complete control over defining your audience, when, where, and how much to spend on marketing, enabling you to analyze the effectiveness of a particular campaign daily across multiple digital channels. Keeping track of how your campaign is running and producing results facilitates you to reduce the amount you are spending on a medium that isn't performing well. 
In this way, you ensure that your money is not wasted by investing in only those channels to get desirable results.
3.Outrank Competitors 
There are significant investors in the market who have big capitals to invest in advertising their products on TV and other costly means. To compete with such competitors, digital marketing plays a vital role for small businesses.
You can use relevant keywords along with good quality content that connects the audience to your product. By doing so, you will achieve a better ranking on search engines and thus driving organic traffic to your website.
Social media plays an essential role in helping you find and reach audiences that were not explored through traditional marketing methods and that too in a cost-effective manner.4
4. Measurable Marketing Techniques 
Digital marketing helps to see results in actual. If you advertise in a newspaper, you will never know how many people viewed the ad and how many people just skipped over it. Still, with digital marketing, you can get clear insights about whether people have viewed your ad or not and what action they took in response to your ad.
Here are few examples:
By using software, one can know how many people visited your website's home page. With this insight, you can quickly identify where you need to put more effort. In this way, you can prioritize the content you want to make more attractive.
Content Performance and Lead Generation 
If you make a product brochure and post it to reach out to customers, you won't know how many people read it and how many people just threw it in the trash. With digital marketing, you can put your product brochure on your website and employing different platforms. You can quickly know how many people your brochure reached, how many people downloaded it, and how many of them took your desired action. 
Attribution modeling helps you know the way people research to buy your product or service. In this way, you get to know parts of your marketing strategy which need more effort and attention.
Digital Marketing – Role in A Business
Digital marketing occurs electronically and online to promote products and services a business has to offer. There are many possibilities for businesses to reach out to their prospective customers through several channels like social media, email, and search engines.
Digital marketing is important for any business and its brand awareness these days. Every other brand has a website and social media handles to interact with its audience regularly. Digital content and marketing have become a reliable and authentic means by which consumers learn about brands.
Companies make their websites and build online branding assets. They exploit email marketing, digital advertising, online brochures, and beyond utilizing a full spectrum of tactics to grow their business.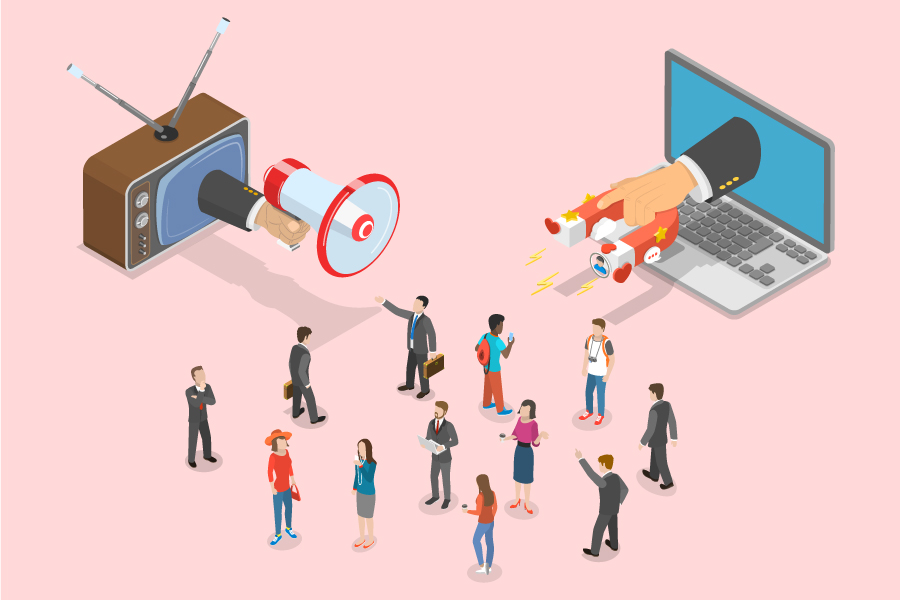 In short, businesses need to embrace multiple aspects of digital marketing to be successful in this competitive world. You have a lot of room to get creative and experiment with numerous marketing tactics on a budget.
Good digital marketers know how a digital marketing campaign can support their overarching goals. They are well versed in employing paid and free digital channels for cost-effectively achieving their business targets.
Types of Digital Marketing
Following are the most popular and effective digital marketing types and the channels involved in each one:
Search Engine Optimization (SEO)

Content Marketing

Social Media Marketing

Pay Per Click (PPC)

Affiliate Marketing

Marketing Automation

Email Marketing
1.Search Engine Optimization (SEO)
It optimizes your website so that it "ranks" higher in search engine results pages, preferably on the first page of Google Search Results. This helps to increase the amount of free, organic traffic to your website. Websites, blogs, and infographics are benefited from this type of marketing.
There are many ways to incorporate SEO to generate useful traffic to your website. These include:
This type of SEO focuses on how the pages are coded. CSS file optimization, image compression, and structured data are all aspects of technical SEO to enhance a website's loading speed.
It focuses on everything that exists "on the page" when browsing through a website. It involves researching keywords, answering questions for readers, and thus ranking higher on the Search Engine Results Pages (SERPs).
This type of SEO focuses on the activities taking place "of the page." This includes back linking.
2.Content Marketing
Content marketing is a crucial marketing effort to create and promote your content assets to build brand awareness, traffic growth, lead generation, and eventually loyal customers. Content marketing strategies include:
When you write and post articles on a company blog, it assists in demonstrating your industry authority and expertise. It helps to generate organic traffic for your business. This ultimately provides better opportunities to convert website visitors into leads and ultimately sales.
Infographics are a form of visual content. They are a powerful tool to help website visitors visualize a concept in a more enticing way and persuade them to make a purchase.
Long-form content like eBooks and whitepapers helps educate website visitors. It also allows you to create lead magnets for lead generation that helps in email marketing.
3.Social Media Marketing
Social media platforms have evolved as an authentic marketing arena. You can promote your brand, engage with audiences and establish credibility on social media channels to boost brand awareness, drive significant traffic, and generate leads for your business. There are numerous social media marketing platforms:
Facebook

Instagram 

Twitter

LinkedIn

Snapchat

Pinterest
You can easily schedule marketing content for multiple platforms at once and monitor analytics from these channels using handy software. 
4.Pay Per Click (PPC)
PPC means steering traffic to your website. It involves an advisor paying an agreed fee to the publisher every time the ad is clicked. Google Ads is the most prominent form of PPC. Apart from Google, there are many other channels where you can use PPC:
Businesses pay Facebook to post images or catalogs on the user news feed.
Businesses pay Twitter to place profile badges or a series of posts on the news feeds of a specific audience. This results in more website traffic, more Twitter followers, boosted engagement, or even app downloads.
Sponsored Messages on LinkedIn
This allows you to connect with specific LinkedIn users based on their background and industry by paying to send direct messages in their inboxes.
5.Affiliate Marketing
This kind of performance-based marketing is where you receive a pre-agreed commission to promote someone else's services or products on your website.
6.Marketing Automation
To do their job easy, marketers use software to automate their repetitive basic marketing operations they would otherwise do manually, like:
Email automation allows you to send emails to your subscribers automatically and shrink and expand your contact list as needed.
Social Media Post Scheduling
Growing your online presence on a social network requires you to post frequently, making manual posting a bit of an unruly task. Social media scheduling tools help to schedule content so you can focus more on content development.
It is a long process to generate leads and convert them into customers. You can automate lead-nurturing workflows by sending tips specific emails once they fit specific criteria.
Campaign Tracking and Reporting
Marketing automation can also help with tracking the performance of each campaign efficiently.
7.Email Marketing
Companies send marketing emails to communicate with their audiences. Email is often focused on promoting content, offering discounts, and informing about events. It also aims to direct people toward the business's website. The email marketing campaign includes the following types of emails:
Customers welcome emails

Holiday promotions

Blog subscription newsletters

Follow-up emails to website visitors 

Similar series emails for customer nurturing.
Digital Marketing – Role of Digital Marketer
Digital marketers' job is to create brand awareness and generate valuable leads through all the digital channels — both organic and paid. 
Good digital marketers focus on defining and achieving different key performance indicators (KPI) for each channel. This helps them to measure the company's performance across the digital world correctly. 
Digital Marketing – For Different Businesses
Digital marketing can work wonders for any type of business in any industry. Digital marketing involves building out buyer personas to specify your audience's needs and creating enticing online content. It doesn't mean that all businesses should similarly implement a digital marketing strategy.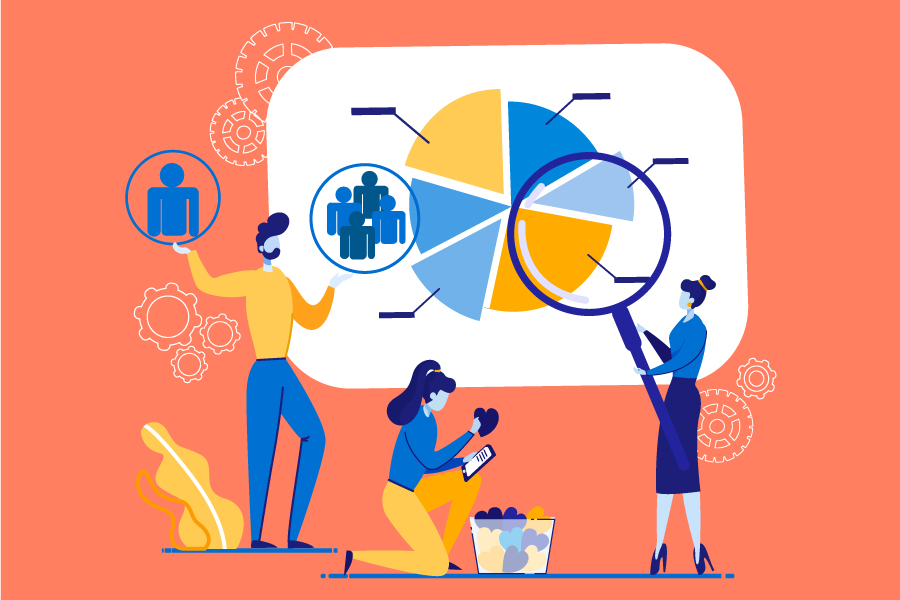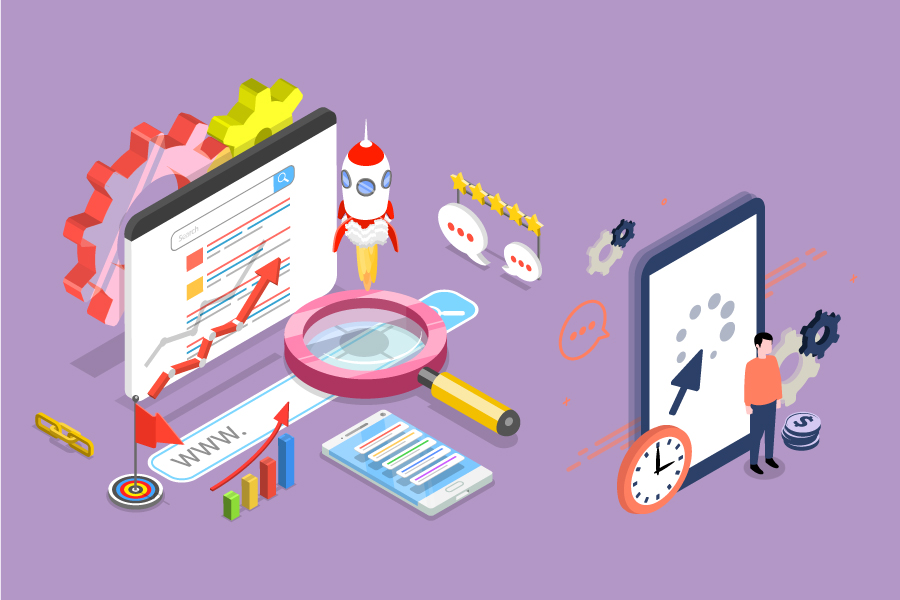 Business-to-Business (B2B) Digital Marketing
If your company is business-to-business (B2B), your marketing needs to cater to that. Most of your digital marketing efforts, in this case, are likely to be focused on online lead generation. The prime goal is to make people speak to a salesperson. B2B marketing strategy attracts your target audience, collects leads, and converts them into buyers efficiently.
LinkedIn plays an essential role in B2B marketing.
Business-to-Consumer (B2C) Digital Marketing
If your company is business-to-consumer (B2C), your digital marketing efforts focus on attracting people to your website and having them become customers without needing to speak to a salesperson.
For B2C marketing, one can use channels like Facebook, Instagram, and Pinterest effectively.
Digital Marketing – Stages
There are multiple stages of digital marketing, and the kind of content you create depends on your targeted audience's needs and the buyer's journey. It is recommended to start by creating buyer personas to specify your audience's needs. Your content should focus on helping them address their goals and overcome their challenges at this stage.
Different stages of buyer's journey are as follows:
Awareness Stage
Blog posts

 are great for boosting your organic traffic when combined with a powerful SEO and keyword strategy.

Infographics

 are a powerful way of increasing your visibility on social media. 

Short videos

 are shareable content that can help your brand get noticed by new audiences. 
Consideration Stage
EBooks

 generate leads as they're generally more comprehensive than infographics and blog posts. People are more likely to exchange their contact details to receive them.

Research reports

 are high-value content pieces that are great for lead generation.

Webinars

 are a consideration stage content format, a more detailed and interactive form of video content. 

Detailed case

 

studies

 on your website are an effective form of content to facilitate the customer making purchase decisions. 

Testimonials

 for B2C brands help website visitors in making purchase decisions. 
How to Do Digital Marketing?
Define Goals

Identify Target Audience

Establish Budget

Balance Between Paid and Free Marketing

Create Engaging Content

Conduct Keyword Research

Iteration Based On Measured Analytics
1.Define Goals
Start your digital marketing efforts by identifying and defining your goals. Different goals require different marketing strategies. For example, you need to pay more attention to reaching out to a new and larger audience through social media marketing campaigns to increase your brand awareness.
Similarly, if you want to boost sales on a particular product, you must optimize content and SEO to drive potential buyers to your website. Alternatively, if you aim to increase your sales, you should opt for PPC campaigns to attract traffic through paid ads.
2.Identify Target Audience
The most significant benefit of digital marketing is the ability to target specific audiences. Recognizing and identifying the right target audience is key to digital marketing.
Your target audience depends on your goal and the channel where you want to market a product or service.
For example, Instagram has a younger audience that prefers quick videos, photographs, and funny memes. But people on LinkedIn are generally more mature professionals who are seeking tactical advice. 
3.Establish Budget 
Your goals and your intended marketing channel will help you define your budget for a particular campaign in particular or marketing strategy in general.
Inbound marketing techniques, for example, social media, SEO, and content creation for a pre-existing website or social channel, don't require a huge budget. You need to hire an in-house graphic designer and a web developer or outsource the entire content creation activity and website development to an agency.
Outbound marketing techniques like purchasing email lists and online advertising are a bit expensive. 
4.Balance Between Paid and Free Marketing
A digital marketing strategy requires a good balance between both free and paid aspects to be indeed beneficial.
For example, suppose you invest time in building detailed buyer personas to specify the needs of your audience. In that case, you will focus on creating high-quality content to entice and convert them. You will probably have to wait for six months or so with minimal ad spend.
However, if you opt for paid advertising, then the results might come in a shorter time.
It is recommended to focus on building organic reach through creative and attractive content and SEO for more sustainable and lasting success. But using a perfect mix of both is vital to achieving marketing goals.
5.Create Engaging Content
After defining your audience and your budget for a particular marketing campaign, now is the time to start creating engaging content suitable for each channel you will be using to promote your brand. Content includes designing social media posts, stories, blogs, PPC ads copies, email marketing newsletters, and more.
The focus must be on creating exciting and engaging content to entice your audience to increase your brand awareness and improve your lead generation.
6.Conduct Keyword Research
Digital marketing is about reaching out to your target audiences through personalized and engaging content organically. This happens only if you conduct adequate keyword research and use the right keywords pertinent to your product, service, and industry.
Conducting keyword research is crucial for optimizing your content and website for SEO and guaranteeing people can find your business through search engines. Additionally, hashtags and social media keyword research can also help promote your services or products on various social channels.
Without hiring a full-time SEO strategist, you can still conduct keyword research by creating a list of high-reach keywords that perform well and relate to your services and products. Consider long-tail keywords for added opportunities.
7.Iteration Based on Measured Analytics
Finally, your marketing team must learn to create an effective digital marketing strategy to pivot based on analytics for long-term success.
For example, you might analyze after a particular time that your content on Instagram isn't performing well while your audience loves what you post on Twitter. This is an opportunity, and you must capitalize on reviewing and recreating your Instagram strategy.
Alternatively, your old website isn't driving enough traffic it used to. This insight requires considering updating the old web page or abandoning it entirely and coming up with a fresh website to ensure your visitor's attention.
Final Thoughts
Digital marketing is a vast field with multiple dimensions to work on. It provides businesses with exceptionally flexible opportunities for endless growth but it's up to the digital marketer to take full advantage of them by devising promising strategies and plans.
This guide must have served as an excellent starter to familiarize yourself with digital marketing terms and their usage. Also, if you are a business owner already doing digital marketing, this guide must have added a lot to your knowledge about digital marketing. But there is a lot more a digital marketer needs to know to achieve business goals.