Social Media Marketing
Social media platforms are an increasingly important tool in building your brand, connecting with your audience, increasing sales, and driving website traffic. Today's social media platforms are crowded with great content, multiplying every second, striving to listen to and engage with your followers.
You need to analyze your results and run social media advertisements and employee social media management tools to help your business get the most out of your social media presence. Using social media management tools will help you achieve success, making the effort cost and time-effective. With the intelligent use of social media, you can successfully build a brand or grow your business.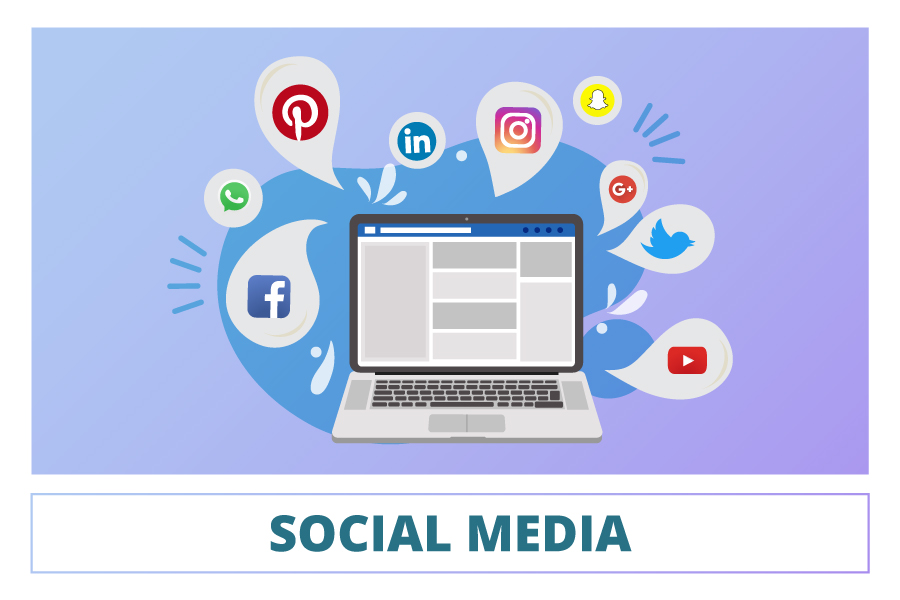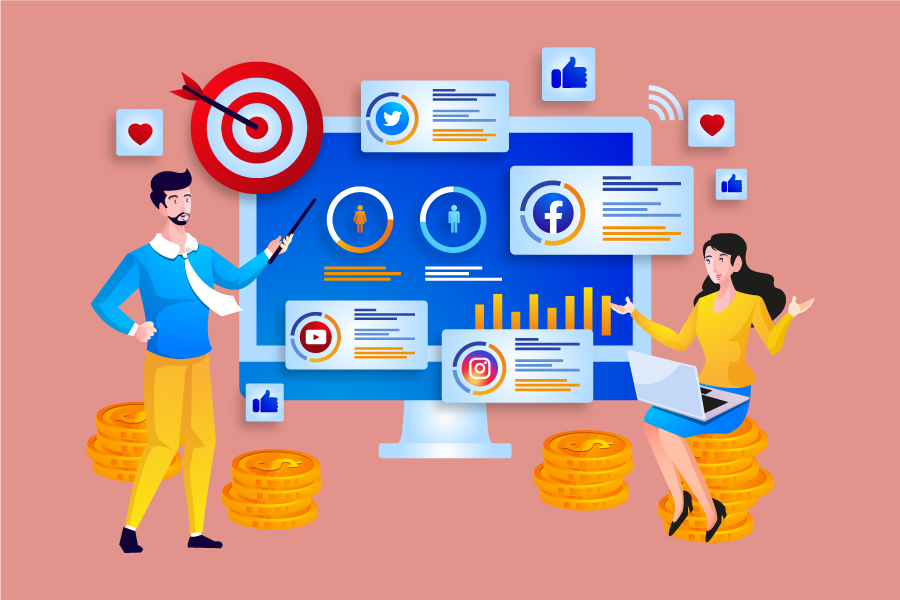 Social Media Marketing – Definition
Social media marketing is the act of promoting your brand through creating enticing content about your services and products on different social media platforms such as Facebook, Instagram, and Twitter. Your marketing content should be unique as tailored to fulfill the requirements of the specific form you are sharing it on. Relevant and engaging social media content will help you increase brand awareness and boost conversions.
Social media marketing is the most effective and efficient way of reaching out to your target audience and customers. Social media offers an extensive opportunity to business owners to meet their potential customers online 24×7. Billions of social media users interact with each other and countless brands over dozens of social media platforms. It serves as a compelling medium to market your business by narrowing down your target audience and growing the brand.
Social media marketing as a whole is exceptionally productive and beneficial to your business growth. Your marketing strategy will modify based on which social networks your potential customers spend their time on.
Social Media Marketing – Popular Platforms
Facebook
With around 3 billion active users worldwide, Facebook stands as the biggest social media platform. Most of the users of Facebook are either Generation X or millennials having a variety of interests. It is a powerful tool for brand awareness and advertising in the Business 2 Customer (B2C) marketing model.  
Twitter
With around 300 million active users worldwide, Twitter is a popular social media platform for millennials primarily. Business owners use it for business 2 Business (B2B) and Business 2 Customer (B2C) marketing. It is used by celebrities and companies to build effective public relations and to ensure the best customer service.
Instagram
With roughly 1 billion monthly active users, Instagram is a central social media platform for millennials. Business owners use it to sell their products and services to clients directly. Instagram is a lot about visual content. Natural-looking media, behind-the-scenes (BTS), and user-generated content works wonders on Instagram and helps in advertising brands for achieving impressive revenue targets.
LinkedIn
LinkedIn is a unique social media platform built to fulfill the needs of Business 2 Business marketing. With around 700 million monthly active users worldwide, including baby boomers, millennials, and Generation X, it can build B2B relationships, develop all kinds of businesses, and marketing career opportunities for the growth of the individual and brands.
YouTube
YouTube is the most effective video-sharing and social media platform with over 2 billion monthly users worldwide watching around 1 billion hours of videos every day. The audience includes millennials and Generation Z. The content on YouTube gets aimed to target individual customers through entertainment, brand awareness, and how-to-videos.
Snapchat
Snapchat is a relatively newer social media platform having around 250 million daily active users across the globe, primarily Generation Z's audience. Businesses utilize the potential of Snapchat to reach out to their customers through advertisements.
Pinterest
Pinterest has nearly 420 million monthly active users comprising younger baby boomers and a bit older millennials. A powerful tool of B2C marketing, Pinterest is all about visual advertising and inspiring individuals.
Social Media Marketing – Benefits
After discussing the popular social media platforms and their fundamentals in detail, now it's time to look into the benefits of social media marketing for your business. There are plenty of reasons why every business should use social media marketing as a vital part of their overall marketing strategy. Following are the top four benefits of social media marketing in today's world.
Increase Brand Awareness
With around 4 billion global users on social media, everyone can see the massive potential it holds to build brands and improve brand awareness. It is crystal clear that sharing content about your services or products and details about your business via several social media platforms has the vast potential to enable you to improve brand awareness.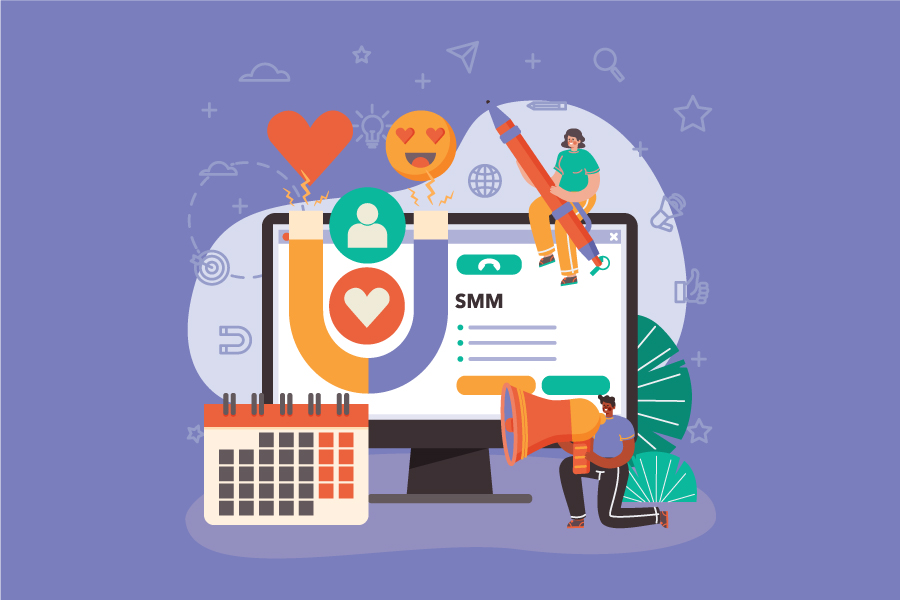 Social media boosts brand awareness by connecting with more and more potential buyers and already existing customers by sharing enticing and engaging content. Followers engage with your brand through liking, commenting, sharing, and reposting your content. The more people engage with your content over social media, and the more your brand is recognized and highlighted. Social media also assists you in increasing brand awareness by driving traffic straight to your business website. You can do this easily by mentioning direct links to your business website in your social media profile, bio, and posts.
Generate Leads and Boost Conversions
Social media is a simple and easy way of promoting your products and services. Sharing your services and products and other business details on the right track with the right audience increases lead generation, improves conversions, and raises sales. Social media marketing is a powerful marketing tool because you are reaching out to all those who have chosen to engage with you by deliberately following your account and being interested in receiving an update from your brand.
There are several cost-effective ways to use social media to improve your lead generation and eventually boost your sales. You can start a contest for your customers and followers to participate in on your social media handle. Such contests not only increase engagement but also help businesses generate leads. You can include links to your business website and current promotions in the bio sections of your social media profiles to make it easier for your followers and page visitors to visit your website and convert.
Hosting live videos to make important announcements about services and products and providing details or updates about sensational news at your company is another way to boost lead generation. You can also try enabling Instagram's Shopping feature or Facebook's Shop Section on your profiles as a part of the social media marketing campaign on one of your social media channels. Shopping features on social media allow your followers and visitors to view detailed information like price, size, and material and easy checkout. It makes the shopping experience more manageable and streamlined.
Nurture Relationships with Customers
Brand growth depends a lot on the relationship it has with its customers and audience. Your business can build lasting, strong relationships by regularly engaging and connecting with your social media followers. The best way to build a relationship is by inviting your audience to interact with you on your social media content like posts and stories. You must take time to respond to every question about your business and products and reply to every comment on your posts and stories. Your social media channels must be active enough to provide your followers and visitors with any help they may require.
You can also put up engaging stories asking your followers about your products and services' pain points and concerns. You can try creating giveaways to help you build trust and show them how much their support and input mean to your business.
Study Your Competitors
Social media is an open platform for everyone. It's free to make profiles and post unlimited content on them about your business. It's a crowded place already. You and your competitors have an equal opportunity to exploit the massive potential of social media platforms to achieve your business goals and revenue targets. To stand out in the crowd, you have to be unique and authentic. Studying your competitors in detail is a key to using social media for promoting your brand. Keep an eye on how your competitors are implementing social media tricks, what products they are promoting, how they are running campaigns, and their interaction with their followers.
Once you study the social media marketing of your competitors, you will get a good insight about what is and isn't serving the purpose of your competition, and therefore helps you determine what you should or shouldn't alter in terms of your brand's strategy. You can always take inspiration from anyone but never copy what your competitors are doing on social media. Coming up with unique and creative ideas that your customers can relate to and entice them to engage with you will help you boost your social media presence and will make you stand out.
Social Media Marketing – Strategy
A social media marketing strategy overviews everything you intend to do and strive to achieve on social media channels. It leads to your actions and lets you analyze if you are succeeding or failing in your marketing efforts.
The strategy has to be very specific and result-oriented too to make it more effective and valuable. Keep it concise and practical. Making a lofty and broad strategy that's impractical or unattainable will do no good. You want to plan and implement something achievable and measurable in terms of results.
Let's walk you through a 5-step plan to create a winning social media marketing strategy for your brand.
● Research your target audience and buyer personas
● Determine suitable social platforms for your brand
● Create unique and engaging content
● Schedule your content
● Analyze results
Research Your Target Audience and Buyer Personas
First and foremost, you need to define your target audience and research your buyer personas to create a social media marketing strategy so that you can cater to their needs and interests more effectively. You cannot sell a comb to a group of baldies.
By taking your buyer personas and audience into account, you will specify what content will attract your target customers and how you can develop engaging content to keep them interested.
Determine Suitable Social Platforms for Your Brand
Not all social media platforms get built equal. As discussed above, each of them has a unique style and utility for a set of marketing needs. It is crucial to determine which platforms will work best for your business. More than one social media platform will likely serve your marketing needs. You must figure out where your target audience spends their time and what the platform offers content sharing.
Create Unique and Engaging Content
Creating unique and engaging social media content is necessary to stand out in the crowded social media space. You need to provide your profile visitors with a solid reason to click the "Follow" button on your profile and start interacting with your brand.
User-generated content is another effective way to build authenticity and engagement around your brand. It helps to encourage your followers to use hashtags to share their experiences and images with your products.
Schedule Your Content
Scheduling your content will help you control the frequency at which you post and allow you to post when your audience is most active on the platform. There are plenty of tools that will enable you to schedule posts and stories in advance. It is time-saving and allows you to concentrate on your other tasks.
Analyze Results
One of the essential parts of a social media marketing strategy is analyzing the results of your marketing efforts. Social media metrics help you review and manage all of your content on every social media channel. These metrics may include data about:
● Engagement
● Reach
● Impressions
● Mentions
● Reports
● Shares
Keeping an eye on the metrics mentioned earlier will help you determine where you are performing well and need to make changes.
Social media is a relatively newer world to market your business, and it's constantly evolving as the social media platform developers are always looking to improve the user experience and the underlying algorithms. It helps if you kept up with the changes to make the most out of social media marketing.