SEO Keyword Research
Keyword research is the act of looking for popular search terms in search engines such as Google and strategically incorporating them in your work so that the material appears higher on Search Engine Results Pages. It is a fundamental approach for Optimizing Search Engines (SEO).
The keyword research approach entails choosing your content's topic and focusing on a list of particular keywords for which you need to categorize your work. Keyword research is a Search Engine Optimization (SEO) Technique used by professionals to uncover and study search terms that customers enter into search engines while looking for products, services, or general information. Keywords are searches entered into search engines by users.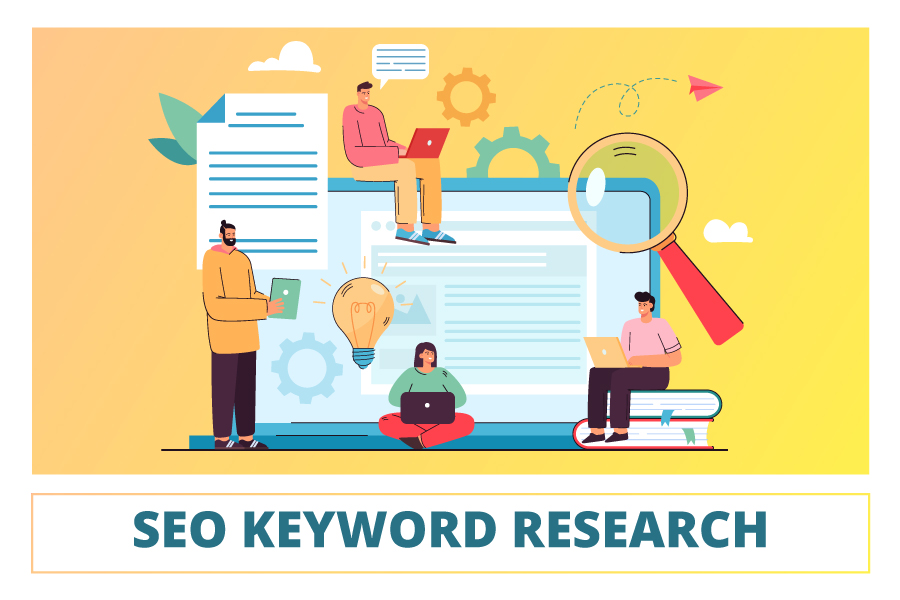 There are three sorts of inquiries:
1. Navigational search requests
2. Queries for Informational Searches
3. Perform a transactional query search.
Search engine optimization professionals first seek keywords and then match web pages to these keywords to achieve higher search engine rankings. When a term gets discovered, it extends to find similar terms. Tools like the Google Ads Keyword Planner, including a thesaurus and alternatives, are helpful in keyword suggestions. This study gets supported by Google's first-party data, obtained from autocomplete Google searches, related searches, or requests from people.
Keyword Research's History
Since 2005, Search engines have been conducting keyword research on algorithms. However, the field of keyword research has grown significantly. Search engines now prioritize well-written search content when ranking content. Keyword density (how frequently you use a phrase in your work) is no longer the most significant factor in search engine optimization. Keyword research strategies have evolved and will continue to grow in response to changing SEO algorithms.
Keyword research is frequently conducted early in the campaign's lifecycle and serves as the initial stage for subsequent projects, content, and campaigns. You can take the help of keyword research to assist you in creating new content, determining how we can identify your product's characteristics, or optimize the website after it gets published.
While keyword research approaches vary considerably between small and large businesses, we'll examine several best practices that can help you identify the most relevant keywords for your viewers at the perfect time.
Purchaser's Journey Determines the Journey of your Keyword
Identifying the consumer plus journey of purchasing is a wise move that will assist you in determining which keywords to target for content you want to produce. The buyers' journey is critical for most of the departments in the company, not only the marketing team. If your sales team can identify where a prospect or potential customer is in the buyer's journey, it will be a lot easier for them to decide how to reach out to them.
Because each user has a unique journey, learning about their demographics purpose may offer you various keywords. It is why developing a content map is so important. Your content map will depict your customer's journey stages on a map, indicating which people or trip stages for the buyer you may need to give further information.
Consider a B2C journey: a user looking for racing components will have a very unlike search activity compared to a user searching for their child's race car toys. However, as both contain keywords, you must understand your customer's phrases so that both parties can quickly discover the terms.
Search Engine Keyword Research Methodology
When you've defined the individual, one must devise a strategy for the keywords you want to categorize. The PIE method is a straightforward structure to adhere to, and it is something to tell clients at the start of the procedure. PIE means protection, improvement, and expansion in this context.
The Protect area is for keywords you presently rank for, and you want them to be safe. A short example would be the brands and words related to your services and work the most. Because these words are often late stage, conversions get highly valued with these keywords.
The section Improve includes keywords for chances on Google's second to 10th page. These are prominent "low fruit" keywords that may get expanded with page modifications.
Finally, Expand is for chances that are excellent in the PPC and have limited broad exposure. The top ten results of Google don't contain these keywords. You may also add more marketing keywords to it. 
By sealing these in this manner, you may compute the time based on gaps discovered in this study. You may start brainstorming keywords from there.
Best Practices of Keyword Research
Inquire About to and the People Searches
Google supplies us with knowledge in various ways and learns how to research with the help of Google keyword planner. First and foremost, a search box is there. It provides you insights into phrases that are closely related to your search. They are time-sensitive as well because Google provides them with fresh trends and search traffic only. 
More information on these phrases may be found in the section "Search in…". You may add more keywords by clicking on them, helping you construct the 'keyword matrix.'
Content Table from Wikipedia
Wikipedia contains a plethora of content in a variety of areas. The team is doing an excellent job of maintaining the articles updated with recent links and information. The contents table has a wealth of information on the areas to which the subject is closely linked. By clicking on them, you may add new topics to your keyword monitoring.
Analysis of Content Gaps in Contests.
Google Keyword Planner helps provide a page where it receives linked keywords. If you're thinking about a specific issue, you can enter the team's top competitors and look at the additional keywords to map the page. We used a keyword planner to find the keywords used in the top-ranking URL for the example below with racing components.
While creating a keyword matrix, keep the following things in mind; 
Concerning Keywords, Select Quality above Numbers.
When you contain a huge keyword matrix, go search for a location containing keyword competitiveness and search traffic. If the phrase is comprehensive, it will probably become extra diluted. Moreover, the search engine may not convert, even if it is categorized for the keyword because it searches for certain things. At Conductor, as per observations, using keywords of up to 2 or 3 words yields the best results. Google Panda has impacted several websites, causing hundreds of pages to get created using low-traffic keywords. Build ten pages instead of 100 well-optimized pages to sacrifice quality.
Avoid Using One Word Conditions
Considering the recent time, you searched Google for a single word term. Did you get the outcome you hoped for? One-word keywords are usually too broad and competing, and you won't convert traffic even if you grade.
Don't use Lengthy Keywords. 
If your term is longer, the more particular you want to be. More than four keywords result in genuinely specializing your content, their demand and search volume gradually decreases.
The intermediate, which has two to three words, is the only item remaining. You should get excellent results by combining them with your LSI keywords and constructing an article page following best practices.
Where should I Seek SEO Strategies?
You must lay out a keyword research approach to help you develop a list of keywords to target. Using this method, you may create and apply an effective keyword strategy that will assist you in finding the words that are most important to you.
Step 1: Based on your business expertise, create a list of critical subjects.
To begin, consider the things you want to rank in terms of broad categories. You will create 5-10 subject buckets that you feel are important for your organization, and you will use them to build specific keywords later in the process.
Step 2: Fill in the blanks with the terms from those categories.
Now that you've identified a few subject buckets, it's time to look for keywords within those buckets. These are keyword phrases you believe are critical to categorize your target customer in search engine results pages because they are likely to look for these precise terms.
Step 3: Recognize how purpose influences keyword research and analysis.
User intent is the most significant factor in your search engine's search capacity, such as Google. It is far more critical that your website addresses a searcher's problem than just the word the searcher used. So, how does user intent affect your keyword research?
You may easily take phrases at face value, and unfortunately, buzzwords hide various meanings behind the surface. Because search intent is so essential for your potential ranking, you must exercise extreme caution when interpreting your target keywords.
Importance of SEO Keyword Research
According to market research, most site clicks end up at the first few organic listings, so you must aim for the top.
When your business website gets more visibility, the odds of converting potential leads into reliable customers, increases.
In a nutshell, investing in keyword research will enable your business:
Appear to more clients,

Your website receives more engagement 

Generate more ROI