As a result of recent technology developments and their adaptation by companies, the ways of interaction with people and sharing information has been changed drastically. The majority of people today get their information straight from the internet source, thanks to the emergence of increasingly inexpensive smart phones and other electronic gadgets.
Today businesses are working day and night to find new and inventive ways to leverage technology to improve their consumer relationships. They've done this by bolstering their digital marketing efforts by generating highly targeted content that engages and convinces the targeted audience.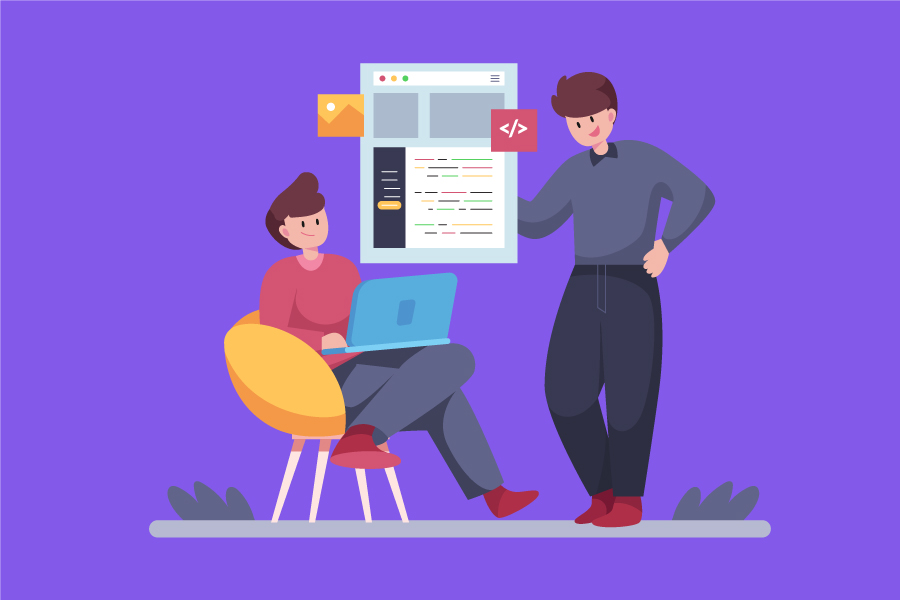 As the economy grows increasingly digital, it is certain that Digital Marketing and web development will continue to be a viable career option for students. Continue reading if you want to learn more about this field and why studying digital marketing and web development could be useful to you.
Perhaps you're hesitant to pursue a career in web development or digital marketing profession. Maybe it's a transaction you haven't considered yet. to clear both the situations and find the answers, we've compiled a list of 7 top-notch reasons why digital marketing and web development are gaining so much popularity among students.
1. Become Worth Demanding
Knowing digital marketing will only help you become more appealing to clients and employers by providing you with the information and abilities to design websites that perform, as well as the competence to drive targeted traffic to the website and boost sales.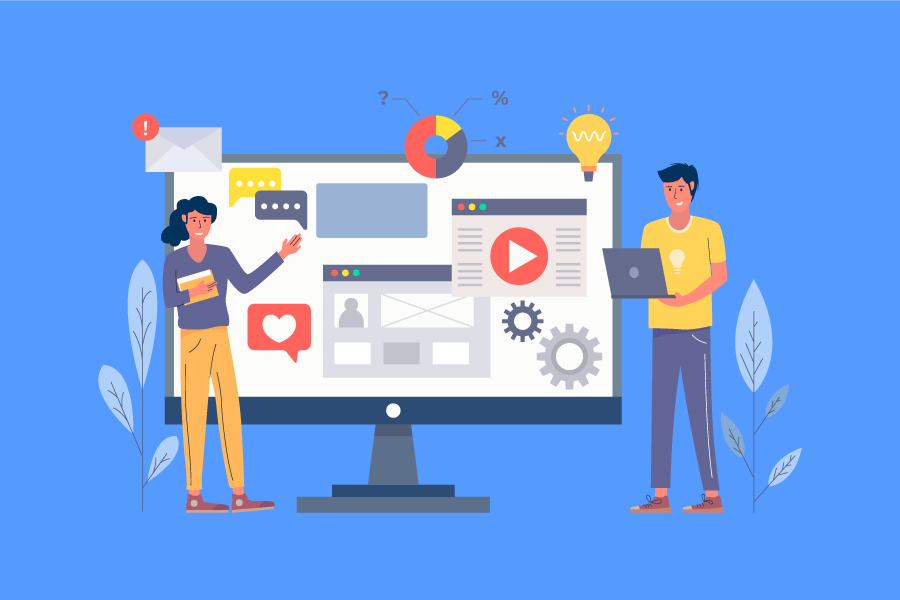 If you work as a freelance web developer for customers, you may now provide packaged services to provide additional value while also increasing your earnings.
With all of these techniques in place, not only does the website have a better chance of succeeding, but it also provides you with a reliable source of income, avoiding the financial peaks and valleys that some freelancers face.
If you're an employee, talk to your boss or management about any website improvement suggestions you have and volunteer to help with the project.
Be innovative in your role, offer more value, and demonstrate that your expertise makes you a more valuable contributor. In the long term, this will be quite beneficial to you. 
2. Have a Fantastic Back-Up Job 
I know this is a bold statement but this is a reality.
I'd do the following if I awoke one day and found I'd lost all of my potential clients, and website. I would not weep on the past instead I will boost myself to start again to make a living: 
I need to figure out how much money I want to make each month. 

Concentrate your efforts on a niche market that is tiny yet competing so that it will have traffic too.  Create a report in which I analyze the industry, competition, and sites, and then present myself as an authority in a certain field.

Create a $1,300 per client digital marketing retainer package aimed at improving solar panel sales. 

Sign up four clients at $1,300 each, which gives me a full-time monthly income and the client a minimal monthly expenditure. 
I'd then better work two hours for each customer per day for a total of a full day's work, or one whole week for every single client.
3. Full of Fun and Love
Web development allows you to express yourself on the internet in a creative way. If you have an idea for a project while you learn web development, give it a go. Web development is a creative and enjoyable activity. 
Overall, I feel that digital marketing and web development have fascinating careers. You're always learning new things, and the technology behind digital marketing is always evolving. 
Furthermore, work settings are frequently more relaxed, and if you have a remote digital marketing job, you may work from home, which can considerably reduce stress.
4. Can Do Your Own Business
Do you want to establish your own company, business or work part-time as a freelancer? Many web developers dream of becoming this, and it's a great way to boost your income or probably found the basis of your own full-time business. 
I recommend that the web developers should learn about digital marketing if they want to stand out of crowd.
Please understand that whatever I say may spark a lot of debate, but my theory is that anyone can build a site. But not everyone can make it a successful site, however, not everyone possesses the necessary abilities to design a website that will attract visitors and produce income.
 The person who just design the website and have nothing professional then it might run out of clients soon. I have proven that I can design websites that assist clients achieve their objectives, I have a waiting list. 
I am not saying this to make me feel proud and arrogant instead I am saying it because the only way I can accomplish this is with the information I've gained from studying and attempting, and I hope you will do the same.
To put it another way, imagine you've developed the most fantastic website ever made on a topic and your work is so professional that other websites can't even come close to matching what you've done.
5. Appreciate able Amount of Income
Certified professional web developers make an average of $65,000 per year, according to the news channel of U.S and world report. While money should not be the sole factor to be considered when considering whether or not to pursue a career in web development and digital marketing, it should be taken into account. 
The average household income in the United States in 2017 was $56,700 dollars. The average compensation for a web developer appears to be rather high. As of April 2020, the average pay in the Mexican web development industry was 196 thousand Mexican pesos per year.
A UX designer made 480 thousand pesos annually which equals $23,253 US dollars which is quite good to live a luxurious life. A Ruby software developer/programmer earned 240 thousand.
According to PayScale and Glassdoor, the average salary of the digital marketer ranges from 50,000-115,000 US dollars annually. With the increasing demand for Digital Marketers and greater company expenditure on them, these pay packages are only anticipated to climb. 
The important thing to remember is that these don't pay packages for new or inexperienced digital marketers, but rather for people who have taken the time to officially study digital marketing and guarantee they know everything there is to know about it.
6.Diversify your communication skills
You'll almost probably encounter and interact with people from all walks of life while practicing because it's such a diverse profession with such a variety of options to specialize in.
This job is most suitable and thriving to those who love to interact with new people and to communicate with them in professional manner.
You can also work behind the scenes doing writing or online work if you're a little more introverted. An extra benefit is that you may manage and collaborate with freelancers from all around the world, bringing a fresh viewpoint and depth to your work.
Whatever your job title, the sector ensures that you will never be bored at work! 
I am giving you an important takeaway which is that take advantage of fresh possibilities to learn new things and meet prominent people, such as training programs or breakfast networking gatherings.
7. Develop entrepreneurial skills
There is undoubtedly some overlap in the abilities that a competent Digital Marketer and a dynamic Entrepreneur share. 
You will undoubtedly develop some behavioral skills if you study digital marketing at an authorized university. 
Digital marketers must be aggressive self-starters with strong communication skills, be fast to adapt to market developments and be effective at marketing the brand they represent. All of these characteristics distinguish entrepreneurs from their rivals.
Furthermore, to create tactics and utilize innovative techniques to motivate consumers to buy their items, Digital Marketers must have strong working connections with their clients. They are immediately given specific leadership skills as a result of this, which aid them in being the face of a brand.
8. Easy to adapt and specialize
To start traffic flowing, like with any marketing, an initial investment is necessary. 
When you realize how easy is it to expand and adapt as your business grows, the value of digital marketing for small businesses proliferates exponentially.
You may set a daily budget for social media campaigns, display ads, and search ads, for instance. 
You already know how much that campaign will set you back. 
Now you're starting to notice some incredible effects. you don't need to negotiate again with the advertisement space to keep an ad running successfully.
As you continue to convert that traffic, you simply increase your daily expenditures and revenues. 
If something is not running accordingly then don't wait to fix all these issues until it is too late and you lose much. Simply analyze data and make adjustments quickly to cut down on ad waste and revenue loss. This raises the question of how affordable digital marketing maybe for a small firm.
Making a professional choice is never easy, especially when you have no idea what will happen after you've spent a plenty of time and money in acquiring a new skill. luckily, a web developer and digital marketer's high-demand, easy to adapt and specialize, and fun & loving life is always a fantastic choice for students looking for an exciting career in coding.